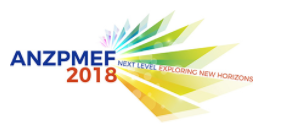 The Postgraduate Medical Council of Victoria is pleased to be hosting the annual national Australian and New Zealand Prevocational Medical Education Forum in Melbourne in November 2018.
The 2018 theme is "Next level: Exploring New Horizons" which recognises that the health sector has many challenges. We challenge presenters and delegates to share new ideas and innovative practices. We encourage delegates to think about and discuss application to their own workplace and ways to move forward and improve.
On behalf of Postgraduate Medical Council of Victoria, the Victorian Junior Medical Officer Forum and the Confederation of Postgraduate Medical Education Councils, we invite you to join us in Melbourne from 11 – 14 November 2018 to immerse yourself in this medical education event and to enjoy the company of your peers from across the region. We look forward to meeting you at ANZPMEF 2018 in Melbourne, Australia.
Associate Professor Jonathan Knott, Chair, PMCV
Dr Sheila Bryan, Medical Advisor and Chair, Organising Committee
Ms Carol Jordon, CEO, PMCV
Ms Marilyn Bullen, Education Manager, PMCV
For more information visit http://www.prevocationalforum2018.com/