27 September 2018
Fourth round offers are out now. Offers will continue as positions become vacant.
20 September 2018
Third round offers are out now. Fourth round offers will commence on Thursday 27 September 2018.
13 September 2018
Second round offers are out now. Third round offers will commence on Thursday 20 September 2018.
06 September 2018
First round offers are out now. Second Round offers will commence on Thursday 13 September 2018.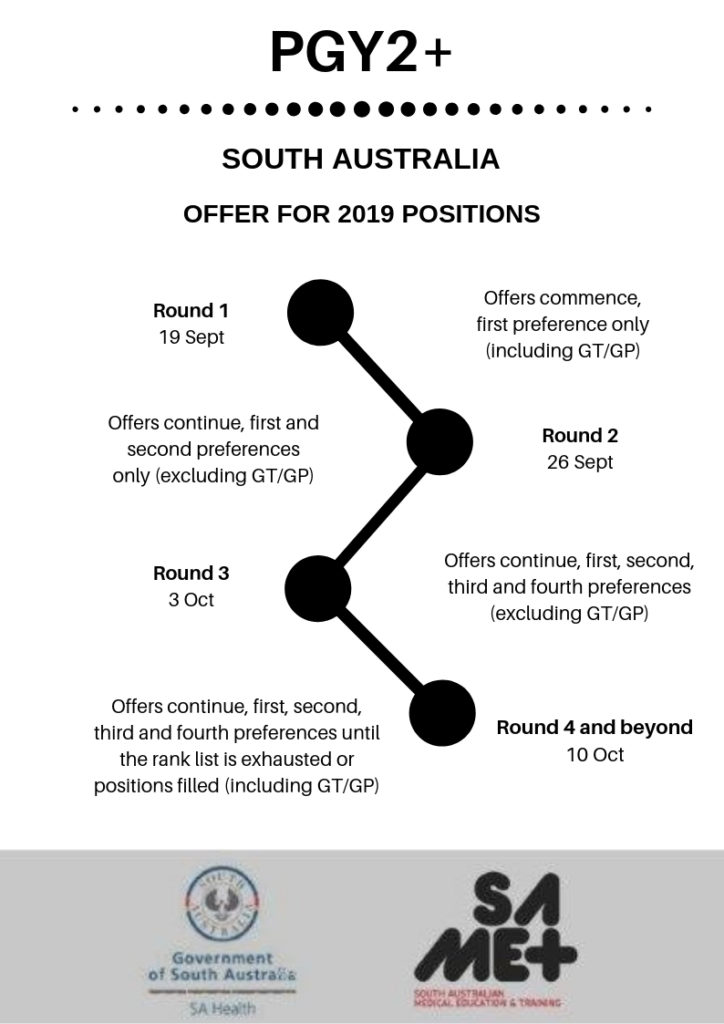 26 July 2018
Interview dates are now available on each programs job pack.  View the PGY2+ Job Pack here.
04 July 2018
Applications are now closed.
12 June 2018
Access to SA Health's eRecruitment system, PageUp, has been fully restored and the PGY2+ applications are now open (12 June 2018). PGY2+ applications will close on 4 July 2018. Start your application or read about job opportunities.
There was a temporary suspension of access to the system, after PageUp reported a potential security breach impacting a number of companies and agencies across Australia. The temporary suspension delayed the opening of PGY2+ applications.
While investigations into the potential breach continue, PageUp has confirmed that there is no ongoing risk in using the site, the threat has been removed and the system is safe to use.
As a precautionary measure, all users will be asked to change their PageUp password when they next log in to the system.
For more information visit the PageUp Incident FAQs or email healthsamet@sa.gov.au.
08 June 2018
Due to unforeseen circumstances involving the SA Health's eRecruitment job application platform, PGY2+ applications for 2019 positions were unable to open today (08/06/2018) as intended.
Page Up (eRecruitment), the online system used for our recruitment process,  has experienced a security incident which may involve a potential data breach.  In order to protect all data, SA Health has temporarily suspended the use of Page Up and is placing its recruitment activities on hold until further notice. The Page Up portal will be closed for a minimum of one week while investigations are underway.
PGY2+ applications will commence once Page Up is back online. SA MET will update you on the PGY2+ application open date as and when we receive further information. The application close date will be adjusted accordingly.
If you have further queries on this matter, you can access the PageUp Incident FAQs.
6 April 2018
2019 PGY2+ applicant information is now available on SA Health Careers  or view the PGY2+ Job Pack.
Applications for 2019  positions will open on Friday 8 June 2018 and close on Sunday 1 July 2018.