Read the Addressing workplace bullying guide – for junior doctors
SA Health has a whistleblower program that empowers staff to play an active role in the elimination of improper conduct in the workplace. This is an independent and confidential service to receive information relating to improper conduct or unethical behaviour. This service is available to all SA Health staff. Click here for more details.
Did you know?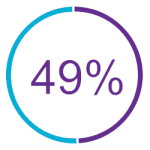 of Fellows, Trainees and International Medical Graduates (IMGs) report being subjected to discrimination, bullying or sexual harassment.
Expert Advisory Group research results and consultation feedback, Royal Australasian College of Surgeons, 2015.

'I remember days when I would just go home and just cry, just sit in a dark room and just cry. We're so vulnerable'
Trainee Surgeon, Channel 9 News, 2015
Sexual harassment rife in medical profession.
Sydney Morning Herald 12/4/15
Workplace bullying: is repeated and unreasonable behaviour directed towards a worker or a group of workers that creates a risk to health and safety.
This includes behaviour expressed via email,text messaging, social media, and in person. However, feedback and counselling, which is constructive and appropriate is not considered bullying, as it is intended to improve behaviour and performance.

Repeated behaviour: is persistent nature of the behaviour and it can involve a range of behaviours over time.
Unreasonable behaviour: is behaviour that a reasonable person, having considered the circumstances, would see as unreasonable, including behaviour that is victimising, humiliating, intimidating or threatening.
Bullying behaviour, which may be intentional or unintentional, may include:
Abusive, insulting or offensive language and comments
Unjustified criticism or complaints
Deliberately excluding someone from workplace activities
Withholding information that is vital for effective work performance
Setting unreasonable timelines or constantly changing deadlines
Setting tasks that are unreasonably below or beyond a person's skill level
Denying access to information, supervision, consultation or resources to the detriment of the worker
Spreading misinformation or malicious rumours
Changing work arrangements such as rosters and leave to deliberately inconvenient a particular worker or workers.
A single incident of unreasonable behaviour is not considered to be workplace bullying however it may have the potential to escalate and should not be ignored.
If workplace bullying behaviour involves violence, it should be reported to the police.

Discrimination occurs when someone is treated less favourably than others because they have a particular characteristic or belong to a particular group of people.  It includes direct discrimination to the person (refusing to hire a suitably qualified person because of their racial background) and indirect discrimination (an unreasonable rule or policy which, while it may apply to everyone, disadvantages some people because of a personal characteristic they share).
This includes actions taken based upon a person's:
Race
Colour
Sex
Sexual preference
Age
Physical or mental disability
Marital status
Family or carer's responsibilities
Pregnancy
Religion
Political opinion
National extraction or social origin

Sexual harassment is associated with unwelcome sexual advance, unwelcome request for sexual favours or other unwelcome conduct of a sexual nature which makes a person feel offended, humiliated and/or intimidated, where a reasonable person would anticipate that reaction in the circumstances.
Examples of sexually harassing behaviour include:
unwelcome touching;
staring or leering;
suggestive comments or jokes;
sexually explicit pictures or posters;
unwanted invitations to go out on dates
requests for sex;
intrusive questions about a person's private life or body;
unnecessary familiarity, such as deliberately brushing up against a person;
insults or taunts based on sex;
sexually explicit physical contact; and
sexually explicit emails or SMS text messages.