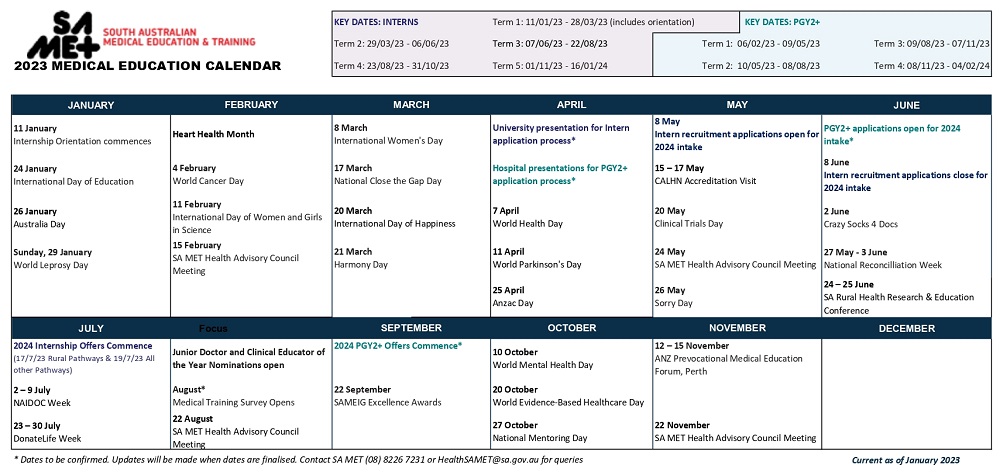 Meet the SA MET Accreditation Team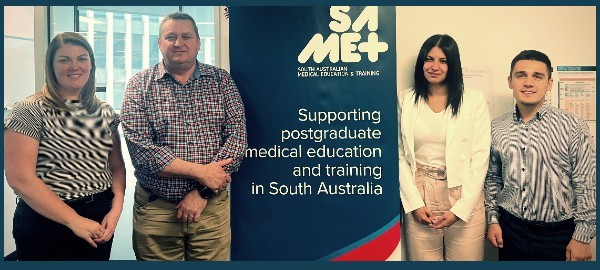 The Accreditation Team had an incredibly busy 2022, and in addition to continuing to support the Local Health Networks (LHNs) in ensuring the prevocational accreditation of medical intern and PGY2+ posts, we successfully facilitated three full facilities, various new units, and underwent our own accreditation assessment by the Australian Medical Council to ensure we continue to provide high-quality and efficient prevocational accreditation services.
We would like to extend our gratitude to the SA MET Accreditation Committee, the SA MET Health Advisory Council and our Accreditation Team visit members for their continued commitment and enthusiasm to support high-quality medical education and training for our South Australian Trainee Medical Officers. This month the accreditation team welcomes back Colleen Cryans as Manager, Accreditation (above, left) and, together with Pagonitsa Mavromoustakis (right), Dzenan Imamovic (far right) and David Neilson (left), look forward to working with the LHNs in 2023!
Update from the SA MET Accreditation Committee, 25th January 2023
I would like to extend our sincerest gratitude and thanks to Emeritus Professor Penny Boumelha, who after four years as the SA MET Accreditation Committee Chair, has decided to resign from this position. Throughout Penny's tenure, we have been appreciative of her critical thinking, efficient leadership and supportive approach towards prevocational accreditation. The Health Advisory Council, Accreditation Committee and staff at the SA MET Unit warmly wish Penny the best for the future.
The Accreditation Committee Chair position is to be filled by an independent person with no conflict of interest with any SA Health facility, to ensure the Health Advisory Council meets the domains around independence as stipulated in the Australian Medical Council's Intern training – Domains for assessing accreditation authorities. We are currently preparing to facilitate an Expressions of Interest process to broadly seek interested persons to apply for the position.
In the interim, we are thankful to Dr Caroline Phegan our Deputy Chair, who will provide support to the Accreditation Committee while we facilitate the Expressions of Interest process to appoint an independent Chair.
Kevin Forsyth
Chair, Health Advisory Council

2023 (Clinical Year) Internship and PGY2 and Beyond Recruitment Update
The SA MET Unit coordinates the centralised application and allocation processes of Medical Interns and PGY2+ positions in South Australia, on behalf of the Local Health Networks. The national Late Vacancy Management (LVM) process for internship commenced on 5 December 2022. Only applicants who have not been made an offer in any state or territory will be placed on the national LVM list. Further offers will continue to be made as declines and withdraws are received until the LVM process closes on 24 March 2023. More information on internship positions.
The Late Vacancy Management process for PGY2+ commenced on 20 October 2022. Applicants who did not receive a training position offer throughout the centralised allocation process may be contacted by Training Program Coordinators to fill any late vacancies. A detailed Intern and PGY2+ allocation report including statistical data and evaluations of the allocation process will be available on the SA MET website in early 2023.